Nun Portrayals
Here are some of my favorite portrayals of nuns. Although certainly not accurate depictions of nuns but nevertheless entertaining.
Sally Field as Sister Bertrille in
"The Flying Nun"
Listen to
The Flying Nun Theme Song
Debbie Reynolds in
"The Singing Nun"
Listen to
Dominique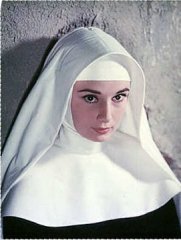 Audrey Hepburn in
"The Nun's Story"
Diana Rigg in
"In This House Of Brede"
Rosalind Russell in
"The Trouble With Angels"
~~~~~~~~~~~~~~~~~~~~~~~~~~~~~~~~~~~~~~~~~~~~~
... and the real nun, former Hollywood actress turned Benedictine nun,
Mother Prioress Dolores Hart, OSB